This is it!

You've finally found the school that provides REAL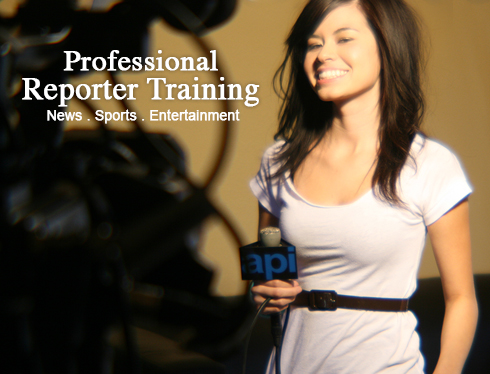 hands-on training as an on-camera reporter for News, Sports, and Entertainment broadcasting.
At Alpha Pacific, all Reporter trainee's attend our regular
Television Production core courses. This is where you learn the "language" of TV.
You'll also learn to produce, write, shoot and edit your own news and sports stories, live promos, packages and more.. All in a journalistic and accurate manner.. Alpha Pacific's training prepares you for what today's TV stations and multi-media outlets are looking for from their on-camera talent.
And because Alpha Pacific is a specialized institute, you'll have the freedom to develop the skills that fit your style. And you'll be challenged with real world experiences.. Like producing actual news stories, sports reporting, entertainment updates and more..
The result will be your own demo reel and promotional package that you'll use to land your first job.
And remember, after you graduate, you're welcome to return to Alpha Pacific to further develop your skills.
Stay connected
Hear from API graduates now working in the industry, read reviews, and keep up to date on Alpha Pacific news, events, and happenings.